In a defeat to Wolfden, Citizens of Pembroke packed the its town office and voted 129-48 in favor of an ordinance that will prohibit industrial-scale metallic mineral mining operations and set new parameters for community-scale mining projects. Read the SUMMARY of the Town of Pembroke Metallic Mineral Mining Ordinance and access the full document here
ABOUT THE BIG HILL PROJECT
Wolfden Resources, the junior mining company who owns the Pickett Mountain property and is currently petitioning LUPC to commence mining is also working towards expanding mining in other vulnerable communities in Maine.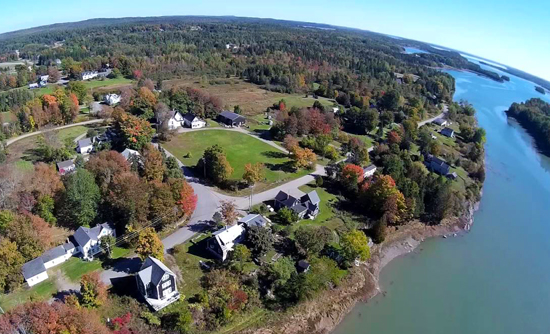 Wolfden Resources is currently and aggressively seeking to mine a property called "Big Hill" in Pembroke, Maine. While the company is being very hush-hush about the location of this site, they refer to it as "Big Silver" to their investors and are promoting it's projected value as particularly significant.
The Big Hill site threatens communities and ecological habitats with the same risks as the Pickett Mountain Project does.
Mining at this location would threaten delicate coastal ecosystems as well as the water supply for the surrounding area, including Lubec, Perry, Eastport, Whiting, and Passamaquoddy lands at Pleasant Point.
Wolfden states in a press release pertaining to "Big Hill" which is published on their website, that "There are very few people living in the area where any deemed future impacts of the project on the community or environment would be considered to be very low."
In actuality, this site is located within several communities of citizens. It is home to many small farms and homesteads whose livelihood and health are dependent on the significant waterways which would be threatened by mining. Watersheds around the proposed mine site drain into the Pennamaquan estuary and Cobscook Bay, a rich fishing area that is a huge economic resource to the County."
In a 2017 letter of concern written by Alan Brooks, addressing the potentiality of mining the polymetallic sulfide deposit known as "Big Hill'' states:
"Touted as potentially the deepest open pit mine in the world, Big Hill, like Bald Mountain, would be a large-scale, low-grade mine, meaning that the amount of waste would be truly enormous and extremely acidic. Located near feeder streams for Cobscook Bay and within the watershed of Boyden Lake (Eastport's water supply) as well as within five miles of Moosehorn National Wildlife Refuge, the state-protected Dennys River Corridor, a salmon habitat, and other important conservation properties, a mine at Big Hill could end up destroying one of Maine's most productive ecosystems and commercial fisheries."
The Big Hill mine, also called Big Silver by Wolfden's press releases, is an area encompassing a major sulfide deposit in Pembroke, Maine. This area was mined for lead in the 1900's, then explored further in the 1970's and the mid 2000's with geophysical surveys and drilling for core samples.
The most recent company to explore the area was called Golden Hope Mines, who claimed:
"The Pembroke property hosts a polymetallic sulphide deposit. Previous exploration work included 36,000 meters of diamond drilling, which defined a resource of 28 million tons of zinc, silver, gold and copper.

Management recognizes that large-scale, low-grade mines are vastly more profitable than small high-grade operations, and in the realization the Pembroke prospect may contain a previously unappreciated open-pit potential amenable to low-cost mechanized mass-mining techniques. By doing so, Golden Hope can exploit the full mineral potential of the deposit, recovering not only the silver content but the zinc, lead, copper and gold values as well."
Golden Hope abandoned the project, bankrupted and in debt to its many creditors. Despite their claims of a "defined resource", the majority of their drill cores were abandoned before analysis.
Golden Hope left (literal) tons of acidic drill cores to soak in the seasonally flooding basement of a building it formerly owned in Pembroke. The discarded cores have periodically sat in five feet of standing water for decades. It is unclear if toxic leaching has drained into the surrounding water table. Adding insult to injury, Golden Hope followed the example of many mining companies and stopped paying taxes on their building, sticking the burden and bill for ongoing remediation to the taxpayers of Pembroke.
The building in Pembroke which contains the abandoned and irresponsibly stored drill core from the Big Hill mine was purchased in 2020, along with its contents.
In an extraordinary effort to access the core through pressure, Wolfden enlisted the assistance of Maine state Geologist Robert Marvinney.

Despite his seat on the board of the Kennebec Land Trust, he was happy to advocate for Wolfden as evidenced by the following letter:
"Dear (name removed for privacy),
Geologists from Wolfden have contacted me regarding the imminent disposal of mineral exploration drill core in Pembroke. I understand why you may wish to proceed with disposal, but I hope you will consider some reasons to preserve these cores and donate them to the state.
The Maine Geological Survey maintains a small repository of drill core, mostly donated by exploration companies. This collection has proven invaluable to understanding the nature of Maine's bedrock geology, since so little of the rock is exposed at the surface.
Our collections include only one set of cores from an actual mineral deposit, Mount Chase. Cores from another mineralized deposit will help us better understand the geologic setting of mineralized zones and how the mineralized rock interacts with the biosphere.
I worked with colleagues from the USGS a few years ago to catalog and preserve the Mount Chase cores, as they were threatened with disposal. Had I known the status of the Pembroke cores then, I would have pursued them as well.
Should a mining project ever be proposed in the area, these cores may allow independent, verifiable analysis by state regulators of potential environmental consequences of mining.
The mineral needs of modern society change with time. When these cores were collected, few were looking for germanium, lithium, or other metals that are essential to the conversion to renewable energy systems. EVs, solar panels, and wind turbines all require new sources of these minerals.
The cores in the Maine Geological Survey will be open for examination by all, allowing students an unprecedented opportunity to understand mineral systems. Just to be clear, they would also be available for examination by mineral exploration companies.
I will be happy to discuss this with you at any time."
-Maine Geologist Robert Marvinney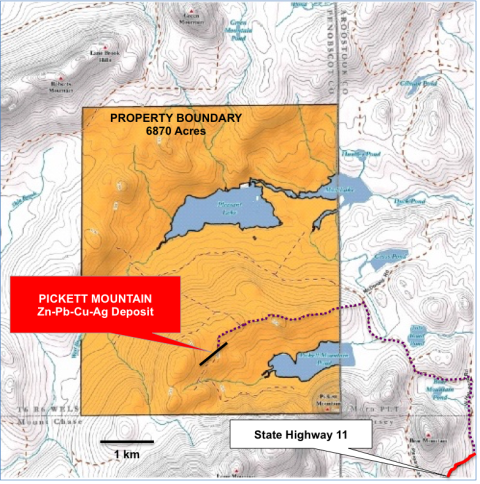 Although the proposed Pickett Mountain mine is the site currently in the crosshairs, if we don't stop them now many other communities are at risk.
Wolfden Resources (Canada) purchased Pickett Mountain, large parcel of land in Patten, near Baxter State Park and Katahdin Woods and Waters National Monument. They recently petitioned the Maine Land Use Planning Commission (LUPC) to rezone 528 acres from a general management area to a planned development area for the future purpose of creating a large scale, deep mining project.
Currently LUPC is accepting comments from the public regarding Wolfden's petition to rezone. Express your opposition by writing to [email protected] and visit LUPC for more details via the button below.
Now is the time to raise our collective voice to protect Maine lands from being used and abused for the profit of these transnational corporations. Tell LUPC to reject Wolfdens petition to rezone Pickett Mountain.