On November 16, 2017 Wolfden Resources (a Canadian mining company) purchased 6,871 acres of forests, wetlands, ponds, and lakes on Pickett Mountain for $8.5 million. Located north of Patten along the border of Penobscot and Aroostook counties, just 5 miles east of Katahdin Woods and Waters National Monument, exploratory drilling at Pickett Mountain has indicated a deposit of Volcanogenic Massive Sulfide (VMS) containing lead, copper, zinc, silver, and gold.
Were the LUPC to grant Wolfden's rezoning request, before beginning construction Wolfden would still need to be granted a license from the Department of Environmental Protection as per LD 820 An Act To Protect Maine's Clean Water and Taxpayers from Mining Pollution passed in 2017.
Touted as one of the strictest mining laws in the country, LD 820 still opened the door to Underground Polymetallic Mines utilizing Dry Stack Tailings Management and removed all permit requirements for exploratory drilling.
Stopping Wolfden at the rezoning stage is the only way to guarantee the project's defeat, and would deter other corporations from pursuing similarly destructive plans in the future.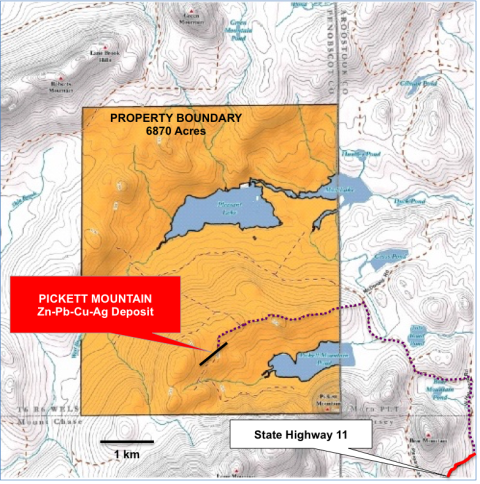 Although the proposed Pickett Mountain mine is the site currently in the crosshairs, if we don't stop them now many other communities are at risk.
Wolfden Resources (Canada) purchased Pickett Mountain, large parcel of land in Patten, near Baxter State Park and Katahdin Woods and Waters National Monument. They recently petitioned the Maine Land Use Planning Commission (LUPC) to rezone 528 acres from a general management area to a planned development area for the future purpose of creating a large scale, deep mining project.
Currently LUPC is accepting comments from the public regarding Wolfden's petition to rezone. Express your opposition by writing to [email protected] and visit LUPC for more details via the button below.
Now is the time to raise our collective voice to protect Maine lands from being used and abused for the profit of these transnational corporations. Tell LUPC to reject Wolfden's petition to rezone Pickett Mountain.